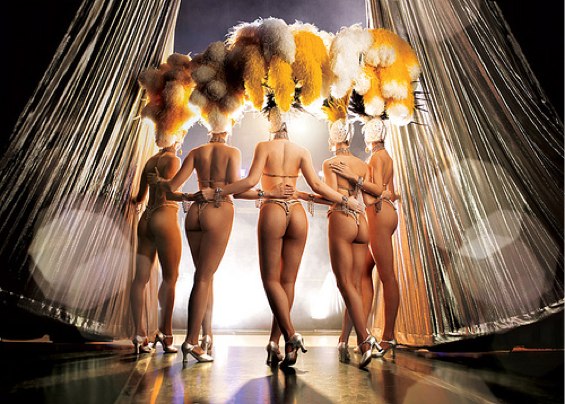 John Katsilometes pens an ode to Penn & Teller as newly minted Las Vegas old heads. With the inking of their new six-year extension, P&T will become the longest headliners to stay in one venue.
So it seemed appropriate to look back and see how this love affair first began. Both have separate stories, both (unsurprisingly) are eloquent and tell of a larger truth about the strange, beautiful desert oasis.
First, Penn, who came to Vegas with hipper-than-thou New York friends to quietly mock a singing legend:
"Dean Martin destroyed us. He just shut us up," Jillette says, practically shouting through the retelling and comparing the consistent pace and personality to his favorite band. "It was one of the best shows I had ever seen, and I thought it was identical to the Ramones in that they just talk faster and louder and in the same key and it becomes something beautiful. Dean Martin took this relaxed and not-giving-a-crap attitude and did a whole show with no ups or downs, and it was so fascinating to me. I was just blown away."
And now Teller:
"Penn and I were visiting Vegas with a band called the Residents, and we all decided to see a Vegas show," Teller says in a separate interview in the Monkey Room. "I remember one of the guys, who was from Louisiana and spoke in this deep, round, welcoming Southern tone, saying, 'What I love about that show is, you plunk down your admission price and you sit back and say, "Spend it!'" That's true to this day: You feel that 'Jubilee!' is a generous show. Big and generous and absolutely unpretentious, and it comes out of a real tradition."
And now Penn and Teller are as iconic to the city as Dino or a glittering showgirl. Pretty amazing.