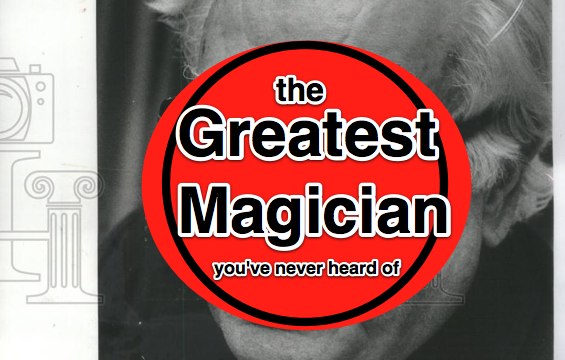 iTricks writer Michael Lauck tells you about a magician who told the stories of so many others.
He's the most influential magician of a generation and you've probably never heard of him. He shaped modern magic but if you've read his name it's probably only been in passing.
He created tales of wonder and wrote words that inspired generations. The name on his books alone electrified readers before their were minds blown with what was written inside.
Is it Houdini? Kind of.
Blackstone? A little bit.
Thurston? Yeah, him too.
Might as well throw in a little Joseph Dunninger and even some Mark Wilson, too. I'm not creating a magical Frankenstein, it is one man who has added to all of the magicians listed above and many, many others. The greatest magician you've never seen is actually Walter B. Gibson, magician and one of the most prolific authors in the world.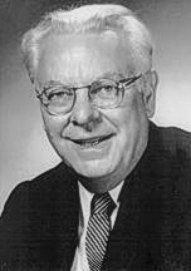 Gibson is best known for writing The Shadow stories under the pseudonym Maxwell Grant. He did not invent the character, who already was on the radio, but instead penned the vast majority of The Shadow's adventures when the radio show spun off a quarterly pulp magazine (which soon became a monthly and then a biweekly publication). It is easy to forget in our modern age of the Internet and 500 cable channels how popular pulp magazines were in their day. At their peak, there was no Internet, no television, no video games and although radio was around (AM only) sets were heavy, heat producing monsters in small wooden crates.To help understand consider this: when the adventures of The Shadow were collected as novels, there were over 300! No one knows for sure how many of them Walter Gibson wrote (as "Maxwell Grant" got the official byline for all of the stories) but he is credited with at least 275 of them. For two years in the early 1940s, The Shadow had a daily comic strip and it was also written by Gibson.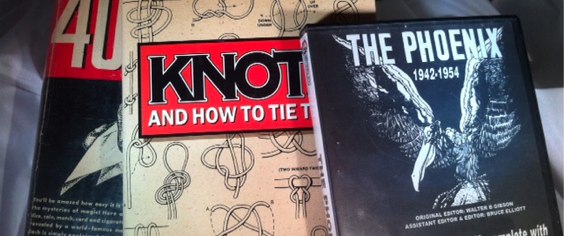 Even though Gibson's work on the various incarnations of The Shadow would be more than enough to call his career a success, it is only one aspect of his amazing career. His fiction work includes the novelization of several Twilight Zone stories, a few books in the Biff Brewster children's adventure series in the 1960s and at least one issue of Batman. In the non-fiction realm Gibson wrote several books on backgammon, pinochle, poker and other games. He also penned books on hypnotism, the history of witchcraft and at least one about knots (and how to tie them). Working with his wife Litzka, he also has several books on psychic sciences and prophecy to his credit. But, as the infomercials say, that's not all! Walter B. Gibson was probably the most productive magic author in the world.
Even as he was writing something like 10,000 words a day to fill the pages of The Shadow Magazine, Gibson oversaw The Phoenix, a mimeographed bi-weekly newsletter for magicians. It ran from 1942 to 1950 with help from Bruce Elliott (who also wrote a dozen or so stories for The Shadow Magazine over the years). Each edition carried a few tricks (about four, give or take an effect) and perhaps a little commentary. The small number of pages and rather primitive look, even for the standards of the time, made it possible for The Phoenix to stay current with the latest in magic news. They were a far cry from magazines and are probably best likened to a good email newsletter except that each one was hand typed, illustrated, printed, stuffed in envelopes and mailed across the country. The Phoenix is considered by many magicians to be a goldmine of effects and the collection is still available today on CD-Rom.
But wait: there's more!
Find out how Gibson helped create the images around the most famous magicians in the world including Houdini, Dunninger, Blackstone and Thurston AFTER THE JUMP.
Gibson started out as a newspaperman, was working as a magazine editor at a fairly young age and then became a pulp fiction author extraordinaire but he was, at heart, a magician.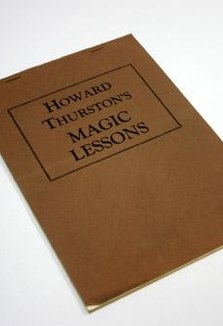 Based in New York and a member of the Society of American Magicians, he was able to meet and become friendly with many of the top performers of his day…. which means some of the top magicians ever to perform. Gibson was trusted enough by Houdini to have Bess pass the responsibilities of the annual Houdini seance to him. As a talented (and prodigious) writer, Gibson enjoyed a career as ghostwriter to the magic stars. Houdini used him to author his books as did Joseph Dunninger. Many of Dunninger's popular columns for Popular Mechanics and Atlantic Monthly, which inspired many a young person to take up magic, were actually penned by Gibson. Thurston's Magic Lessons, 200 Tricks You Can Do and 200 More Tricks You Can Do were all actually written by Walter Gibson as well. Harry Blackstone Sr. was another magician to benefit from Gibson's literary talent. Not only were Blackstone's Secrets of Magic and Modern Card Tricks written by Gibson, he also wrote many of the scripts for the Blackstone Magic Detective Radio Show and even some of Blackstone's comic book appearances.
If you take a moment to think about Gibson's career as a ghostwriter, he was essentially the spokesman for many of the most popular magicians of the 20th century. Although they were all certainly able to use other forms of mass media to spread their fame beyond their live performances, the "writings" of these magicians were an important representation of themselves not only as performers but as popular personalities. They sold these words as their own, and the writings may very well have been their ideas or values at the core, but the message being given the masses was really coming from Walter B. Gibson. Surely, all of these men would have enjoyed success without using Gibson as a ghostwriter, but he was instrumental in creating their legacy.
Consider particularly how much Dunninger, whose mentalism was known to many through his magazine and newspaper columns, and multi-media star Blackstone benefitted from the behind the scenes work of Gibson. Much like a good assistant is often the real key to pulling off an illusion, Walter Gibson's ghostwriting was essential to creating the image of these magicians as modern day renaissance men, comfortable on stage and in print with a variety of subjects (and in the case of Blackstone, fighting crime in his spare time). But that isn't all!
Gibson has an impressive array of magical titles under his own name as well. The Book of Secrets, The Bunco Book, The Magician's Manual and The New Magician's Manual are just a few of his pre-World War II titles. In 1980 he released The Complete Illustrated Book of Close-Up Magic, an oversize tome with detailed photographs showing how to manipulate a variety of objects. He was also a contributor to Mark Wilson's Complete Course In Magic, which is one of the most popular beginner's magic books ever published. Through his books and articles, Walter B. Gibson has probably taught every magician alive today at least one trick. Think about that… that is an incredible impact on magic.
If you kick around on the Internet a bit you'll see that some sites credit Gibson for bringing the Chinese Linking Rings to America. I kind of doubt that. Another story repeated more than once was that Gibson invented thumb cuffs and I'm not so sure about that either. You might also read that he invented "Nickels to Dimes." I'm not even sure that is true… but you know what? It doesn't matter one bit.
Walter B. Gibson wrote so much that no one is even sure how many books, stories and articles can be attributed to him. That fact alone is amazing. Wikipedia claims to have a complete list of Gibson's works under his bibliography page… but it doesn't include Wilson's Complete Course In Magic even though in the article about it they credit Gibson as a co-author. I'm pretty sure I have at least one (maybe two) other magic books in my library with Gibson's name on them that are not on the Wikipedia list, too. That is all without getting into the things written under pseudonyms or for others. The simple fact is even if Gibson never came up with an original handling or technique of his own (which I seriously doubt), he is one of the most popular and successful magic instructors in history.
Almost 30 years after his death and almost 90 years after his first magic book was published, he is still teaching us today. There would still be magic without Gibson, but magic is a much, much richer field because of his input.