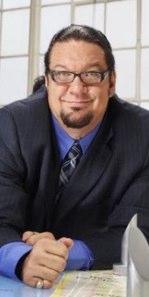 At the Television Critic's Association press event for this Spring's Celebrity Apprentice All-Stars season on NBC, Penn Jillette achieved something rare. He made news by trumpeting a positive opinion about Celebrity Apprentice.
After scorching the Earth in a chapter of his new book, Penn made clear at the TCA that Trump's business-themed reality competition is indeed the best at being honest amongst it's reality brethren.
"It's the most honest show I've ever heard about in reality TV," he said Sunday during NBC's portion of the winter press tour in Pasadena, Calif.

Jillette, who is one of several returning contestants on the upcoming "all stars" edition of the show, says the Donald Trump-hosted competition series is "run with more integrity and is more straightforward than I've ever seen. They are very careful not to take quotes out of context. I've never seen or heard an example of disingenuous editing of taking things out of context."
Celebrity Apprentice All-Stars begins on March 3rd. Below is a teaser clip of the contestants and some footage from the season.