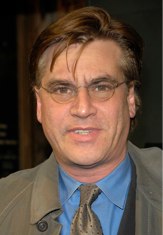 Houdini might not tread across a Broadway stage after all. The buzzy project which would have featured Hugh Jackman as Harry and a script by Oscar winner Aaron Sorkin is facing a trouble future as Sorkin is now leaving the project according to Deadline.com.
The West Wing mastermind is facing a schedule crunch between his HBO series The Newsroom and a feature film adaptation of the recent Steve Jobs biography. But it's not all bad news, the show is still on track.
Sorkin's reps are in conversations with the Houdini producers for them to continue developing the musical utilizing Sorkin's initial concepts and other materials. Stephen Schwartz is writing the music and Scott Sanders and David Rockwell are producing.
With as amazing as Jackman is, we'd love to see this come to fruition. Here's hoping.
And if you'd like to imagine what the Houdini script would be like in Sorkin's hands, just sprinkle in a few of these catchphrases he uses over and over again.