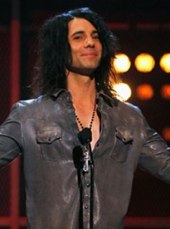 Criss Angel's big announcement is… he's back on TV.
Or at least he will be this fall on Spike TV when his new series begins. It is described as:
Over the hourlong episodes, Angel will attempt new "demonstrations" never attempted by any mystifier in history. What's more, he'll also for the first time reveal the creative process behind the magic, letting the audience in to the "think tank" where his team prepares for some of his trademark illusions.

Each themed episode will focus on "mind-blowing magic, the supernatural, death-defying escapes and astonishing physical stunts that will challenge the very laws of nature" and feature a glimpse into Angel's life, and the characters and celebrity guests who surround him.
Each episode will be an hour long. More on this as it develops.