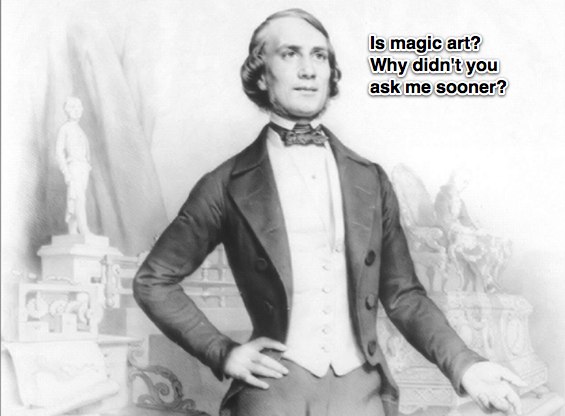 iTricks writer Michael Lauck explains why there is a wealth of context to the question, "is magic art?"
The recent video from R. Paul Wilson and company has reignited the debate as to whether or not magic is an art. It is a difficult question because defining art is, in itself, a complex task. Once we separate the general and mundane usages of the word art from the use of the word in its most revered form, though, I will argue that magic is not an art. However, that is not any source of shame and does not in any way preclude the magician from being an artist.
The word art actually has multiple uses and meanings, at least in English. In the broadest sense, art is used to mean anything that is not a science, that is anything that does not have hard and fast rules governing it. This is particularly true when speaking of something that requires skill, experience and/or judgment. In this form we frequently hear phrases such as "the art of sales," "the art of making friends," and even "the art of motorcycle maintenance." In this sense I suppose "the art of magic" is a legitimate term. However, it is fair to say that sales, making friends and motorcycle maintenance are not held in the same high regard as the realm referred to when speaking of "the arts." (To help distinguish between the two, I will use art and Art.) To further complicate the matter, art is frequently used as an offhand term to describe anything decorative or similar to Art. A third grade art class, for example, has very little chance of producing Art. Finally, art is used, frequently in phrases such as "the arts" or even "fine arts," to describe the general classifications of Art. This is the context in which magic is being discussed. Is it an art to be placed alongside other fine arts such as dance or painting?
First, then, before discussing magic's place it is best to define Art. How exactly to define Art is a debate that has raged among critics, historians and even philosophers for centuries. Instead of striving to create the perfect definition here, it will probably be a bit more expedient to look at a few famous takes on Art and distill a general definition from them. John Ruskin, an important Victorian era art critic, wrote "Art is that in which the hand, the head and the heart of man go together." Simply put, he argues that Art is the combination of physical skill, intellect and emotion. Aristotle also hints at something beyond the physical in Art when he states "The aim of art is to represent not the outward appearance of things but their inward significance." Finally, I submit to you a quote from famed novelist Leo Tolstoy who wrote in his essay "What is Art?" that Art "is a means of union among men, joining them together in the same feelings, and indispensable for the life and progress toward well-being of individuals and of humanity." It seems that the commonality in these definitions is an emotional aspect. I submit that Art is created when the work has an ability to engender emotions in the audience. It is not enough to be merely attractive, pleasant or entertaining; Art does more.
Let me be clear: not every piece of artwork that creates an emotion is Art. Art must create the same or similar emotions in the majority of audiences exposed to it. Therefore, a crude painting from that third grade art class mentioned earlier is not Art simply because it makes the artist's mother cry! Neither is a photograph of long lost family members Art simply because their descendents feel an emotional connection. These instances are too specific, too personal to be truly considered Art. Similarly, even an earnest attempt to create Art fails if it does not stir emotion in an audience.
Much more AFTER THE JUMP!
If we can accept this working definition for Art then we can more easily understand what constitutes "the arts." These are the pursuits that create Art, that engender emotion in their audience. Is magic an art? No, I say, it is not. I know that others will argue that a magic performance can create emotion, they may even cite specific performers and their routines. To confuse matters temporarily, I will agree that magicians can be artists that their performances can be Art without magic being an art.
Art is a powerful thing. It transcends time and culture. Today, someone will visit the Louvre in Paris and weep in the presence of Leonardo da Vinci's Mona Lisa, even though five centuries (and probably a language) separate the artist from the audience. A listener will have their mood altered by an opera performed in a language they do not even understand. Dancers will tell stories that completely enthrall their comprehending audiences without even a single word and sometimes even without music! Magic, on its own, does not have this power.
Magic is a tool that a successful actor uses to complete a performance. I am, of course, not the first person to suggest that the performing magician is in actuality an actor. The phrase, attributed to Robert-Houdin ,"A magician is an actor playing the part of a magician" may be the most oft-repeated and oft-ignored statement on the theory of magic performance. If we reduce magic to its purest form, removing the other arts such as acting, dance and music what remains? The techniques we use, the sleight of hand or mechanisms used to physically create our effects. This is magic… it is not art, it is artisan. It is a craft. Add that craft to the dramatic arts of acting and then Art can be created (an, perhaps, "real" magic of a sort).
Consider for a moment the difference between dozens of technically proficient but boring card or cigarette manipulation videos on YouTube and Cardini. The artist Cardini tells a story that is enhanced with magic. Take the magic away and Cardini could still entertain with his pantomime alone, he can still tell a story and create an emotional bond with his audience. The reverse is not true. Magic on its own is perhaps surprising or shocking at best and is probably merely a puzzle. It is a skill that can make a magician seem to defy the laws of science and nature. However, without that same magician performing something beyond that skill, such as acting or singing, magic is a curiosity. This is why there are not degrees in magic being offered at the colleges and universities that train painters, musicians and actors.
The magician can be an artist and create Art. The magician can create a bond with audiences and lead them to experience a variety of emotions through his performance but only when he uses the craft of magic to enhance the story being presented through dance or song or drama. So I implore all magicians reading this not to leave insulted that their beloved art is merely a craft but instead embrace the fact that you can indeed create Art. Use magic for what it is and grow as a performer. Remember the most important words of Robert-Houdin: "The magician is an actor…."