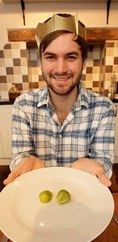 You can sell anything on eBay.
Or at least that was the conversation around the Allam family dinner table on Christmas Day. Which is where the youngest, a 21-year-old magician named Dan got the idea to offer his two uneaten Brussels Sprouts on the auction site with all money raised going to the Make A Wish foundation.
The listing became popular and ended at £100.
Allam, pleased to see his joke would make a positive impact for a good cause was none the less surprised.
'Within an hour I had received 15 emails and then it just escalated. I thought I would only raise £1 but the bids are now at £100. It is great for the charity.'
Cheers to you Dan! In his honor here's some video of Allam in action: