Plus FREE SHIPPING on USA orders over $30
And international shipping reductions
Well friends, this is huge! We have worked tirelessly for four years to become your magic shop of choice, and we hope that this brand new perk will earn your loyalty as a valued customer. We keep thinking of ways to improve, and we think we just hit the jackpot: FREE shipping to the USA on all orders over $30! And, our international friends will notice that we have greatly reduced our shipping costs for many products too.
Now let's tell you about two exciting new Darwin Ortiz downloads:
This is also very exciting: we are the only place on planet Earth to have this: TWO full-length downloads featuring brand new, unpublished Darwin Ortiz material and advice. We believe Darwin's magic and thinking worthy of careful study and repeat viewing. His DVDs and books are some of the few we return to year after year, and we believe these downloads also warrant investment, and multiple viewings. Here are the details: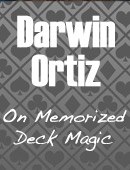 Darwin Ortiz on the Memorized Deck
There are very few performers around the world whose work with the memorized deck have changed the course of magic. Darwin Ortiz is one of those and we are proud to be able to offer this exclusive download of Darwin sharing his thoughts on the memorized deck. You'll learn two world-class memorized deck effects and Darwin's important thoughts on memorized deck magic.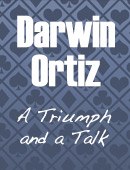 A Triumph and a Talk
At The Session 2011 we had Michael Vincent ask Darwin some important and interesting questions about magic and the result is this inspiring, informative download. Questions like how do you make your magic revelent? How do you practice? How can we view magic from a spectator's viewpoint, and much, much more. Darwin is a confident and intriguing speaker and we think that his answers will help progress and develop your magic.
Of course, we couldn't film a Darwin Ortiz download without sharing a trick! His Fast Company is a full multi-phased routine based around Triumph that completely astounded everyone at The Session. This previously unpublished routine will take some practice, but is an absolute blockbuster!
Here's the best bit. The downloads are $10 each, or for the next two weeks, buy BOTH downloads for just $15!