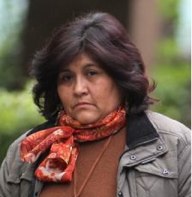 Rocio Pavon-Navarrete will spend the next 16 months behind bars. She will have plenty of time to reflect on her decision to steal $52,000 in checks from mentalist Derren Brown for whom she was a working as a house keeper.
Pavon-Navarrete was scolded by the judge during sentencing for being evasive about her actions before eventually pleading guilty.
Judge David Higgins told her: "It is self-evident that to behave in this way is both deplorable and deeply anti-social. This is aggravated by the gross breach of trust."

She had pleaded not guilty to theft until the first day of her trial on September 13 when she broke down in tears and confessed in front of Derren Brown, who was in the public gallery.

Judge Higgins added: "Until you pleaded guilty you had lied throughout this case.
Her accomplice, the man who actually cashed the checks, will be sentence on October 19th.