SPONSORED POST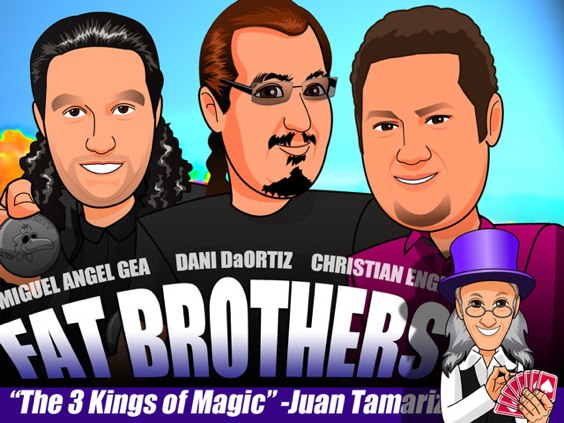 12 killer tricks with contributions from the best minds in magic.
It's finally here! http://www.penguinmagic.com/p/2896
Today I'm proud to announce one of the most ambitious projects we've
ever seen. Two years in the making, with parts filmed in 3 countries,
including the Magic Castle in Hollywood.
"Dani's instant triumph alone is worth the price of admission" -Charlie241
Each of the "Fat Brothers" is a heavyweight on his own: Christian
Engblom, inventor of hottest trick of the year (The Cooler) and one of
the best cardmen on the planet. Dani DaOrtiz and Miguel Angel Gea,
EACH recently released mega-popular 4 DVD sets of their magic.
All I know is, "por favor" must be more persuasive than "please",
because over the last 2 years, these "Fat Brothers" have convinced
some of the top minds in magic to appear and contribute ideas to their
MASSIVE 2-DVD set of pro-caliber magic…
Including appearances and contributions by Michael Weber, Juan
Tamariz, Paul Wilson and Pit Hartling.
PROFESSIONALS: If you're familiar with Juan Tamariz, you know his
praise is golden. These guys started out students of his genius, but
have each become kings of their own domain. Each has a different
style, different techniques and approach. If you want to expand your
mind and your repertoire, there's no better way than to hang out with
the best of the best. This 2-DVD set is as close to going on a
world-tour with world-class magicians as you can get.
The BIGGEST release of the year is here:
http://www.penguinmagic.com/p/2896
SPONSORED POST