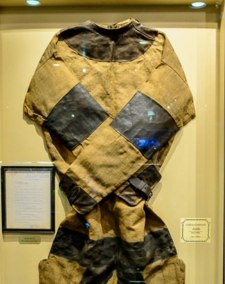 Roger Dreyer of Fantasma Magic just couldn't keep it to himself. He spent so much time, money and effort to amass one of the biggest collections of Harry Houdini memorabilia. He loaned it out to a few exhibitions, but it ultimately needed a home.
And now, visitors to Fantasma can now take a look at some rare artifacts from the most famous magician who ever lived.
"Here was a man who was a 5-foot-4 immigrant with an accent, but he was incredibly successful," says Dreyer. "He would say, 'My brain was the key that set me free.' So we want this museum to teach kids that if you put your mind toward something, if you study and think hard, you too can be successful at whatever you want to do."
Dreyer also enlisted the help of designer David Rockwell to help create the right atmosphere around the items. Rockwell is one of the producers of a Houdini musical starring Hugh Jackman that is slated to come to Broadway in 2013.