Beginning this Friday, David Blaine will electrify the night.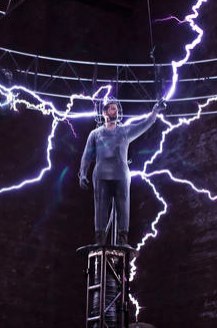 Ensconced in a Farraday suit, he will be the conduit for an estimated million volts of electricity for full days without sleep. He demonstrated the apparatus and answered questions for a select few press yesterday, including what his inspiration is for this particular stunt:
Why do it? Mr. Blaine said that aside from his longstanding desire to test his physical limits, he wanted to pay tribute to Tesla. "I've always been obsessed with him," he said. "He was a scientific genius who created real magic by defying what his peers thought was possible."
An interactive component is at play. Viewers from various locations around the world including London, Beijing, Tokyo and Sydney will be able to adjust the current on the machine.
We also found out that the project will benefit the Liberty Science Center in Jersey City, New Jersey where Blaine has been the Magician in Residence for over a year now. The apparatus used, will be on display at the center after the completion of the stunt.
But in terms of the endurance challenge, the biggest real challenge will be exhaustion. A sentiment echoed by the Paul Hoffman, the president of the Liberty Science Center.
"There'll definitely be incredible beauty in this performance," Mr. Hoffman said. "Lots of people will show up and just be amazed by the spectacle of it, but others will want to dig deeper into the science. How is he controlling lightning? Personally, I'd like to know how he stays awake for 72 hours. I need that skill."
Us too.