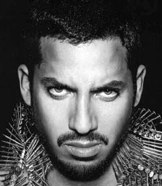 Dude, whenever the following sentence is written about a party, you know things got a little out of hand.
The supermodel Stephanie Seymour read God jokes that the artist had found on the Internet, while the magician David Blaine held his breath in a plastic bag onstage next to her.
Seymour is known to many as The Bride From The November Rain Video.
My only question, is this something set up? Or is it that easy to coax David Blaine into stuffing his head in a plastic bag and holding his breath? We imagine it's like goading Marty McFly into a fight by calling him "chicken".