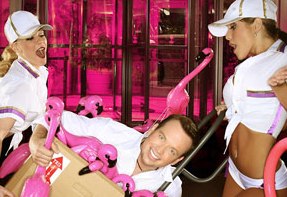 Nathan Burton has filed a countersuit against Bill Voelkner alleging that Voelkener attempted to defraud him.
In a legal dispute that puts two comedy magicians at odds, Flamingo headliner Nathan Burton alleges in a countersuit that Harrah's headliner Mac King and his producer, Bill Voelkner, attempted to defraud him.

Burton's lawsuit, filed Monday in District Court, was in response to one filed in May 2011 by Voelkner, who claimed Burton owed $173,000 in a ticket sales revenue-sharing agreement.

Voelkner had claimed he negotiated Burton's contract with the Flamingo. Voelkner's lawsuit claimed breach of contract .

Burton has been headlining at the Flamingo for 4½ years, or about 1,700 shows.
The original lawsuit first came to light in May of 2011.