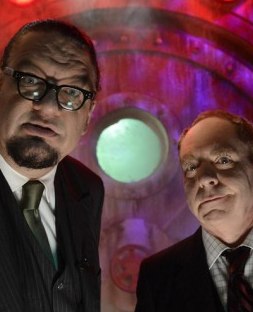 We've heard quite a bit about how awesome Penn & Teller's new haunted house is at Universal Studios Halloween Horror Nights this year. But we had not heard what exactly sets in motion the actions that put our plot in motion. More specifically, how does Las Vegas turn into a nuclear wasteland and how are P&T responsible?
Penn & Teller are best known for their "bullet-catch" magic trick, which Timon said provided the idea for "New(kd) Las Vegas. Spinoff Online had a chance to walk through the maze with Timon and Penn & Teller before the Sept. 21 opening of Halloween Horror Nights and learned some of the behind-the-scenes details for one of this year's most exciting new mazes.

"[Penn & Teller] said, 'Well, what if we caught a nuclear weapon, we fired ICBM missiles at each other. It's an absurd idea, can't be done, but it all goes horribly wrong and we just destroy Las Vegas and we nuke it, and it becomes this post-apocalyptic wasteland,'" Timon recalled.
The ICBM Catch. Someone right now is reading this and saying to themselves, "I think I have a method for that."