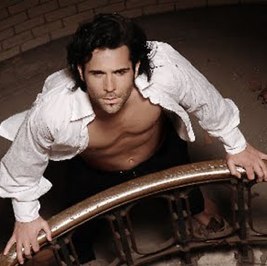 Mike Weatherford is bullish on the success of Jan Rouven. He likes his time slot. He likes his price point. He likes his show.
But there is an X Factor at work. One element that brings everything together and cements his character with audiences. Most provocatively, he calls it "new gay".
Mind you, I speak only of his stage persona; Rouven's offstage life is his own business. But in terms of audience rapport, the most hip thing Rouven has going for him is the "new gay" vibe you see in TV and movies – the guy your teen daughter runs around with after choir practice, not the "old gay" cutups like Paul Lynde or Charles Nelson Reilly.

The real magic of the "Bed of Death" is not that Rouven escapes the swords, which fall one at a time when a lady from the audience randomly pulls identical red ropes to release them (one, you see, is poised right over his heart).

No, the real magic is the roll of jokes he gets going before the trick and that the lady seems to genuinely worry about him. Enough to give him a peck on the cheek when he survives.
It shouldn't be a surprise that this kind of character is connecting with audience. No matter Rouven's actual sexual orientation, similar characters are fan favorites on shows like Glee.
Is it enough to continue Rouven's ascension in Vegas from his current home at the Riviera to an even larger room? We shall see.