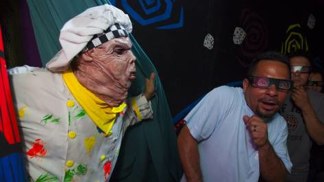 If you are planning on heading to Universal Studios Florida's Halloween Horror Nights this year and are looking forward to experiencing Penn & Teller's New(kd) Las Vegas house we sincerely recommend not reading this Monsters & Critics review of the event in total and the house in specific.
Although, this awesome quote about why P&T love Vegas is probably safe:
Sin City Las Vegas was the best muse for the duo, as they perform there more times than anywhere else during the year. Jillette noted, "What we love about Las Vegas is the emphasis on chance, it's a constant. Vegas is a big prom for adults who are bad at math."
Otherwise, if you want an almost room-by-room description of the entire journey, please click this link.
AND… here is a press Q and A they did for the media: