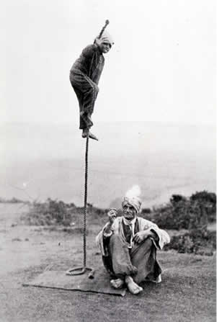 So we are reading about someone performing the Indian Rope Trick when all of a sudden this paragraph hits us right in the face.
"In the original version, the assistant scrambles to the top of the rope and then disappears. The magician calls for the boy, grows impatient, grabs a large knife and scrambles up the rope, and vanishes. Then limbs, a torso, and a head fall out of the sky. The magician reappears, reassembles and covers the body parts, and from under a bloody sheet the boy reappears," said Babu, a magic enthusiast.
I guess, this is just an element of magic that's sat in my blind spot until this very moment.
How metal is that presentation though? "Hey assistant! I'm tired of you farting around at the top of my rope. Don't make me come up there or I know one sorry little boy who will be graphically dismembered!"
Penn and Teller say it (but don't show it) in the Magic and Mystery Tour.