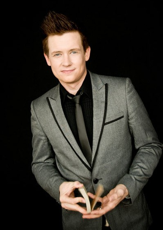 Harris III, the magician who used Kickstarter to fund his $20,000 independent magic movie was hospitalized this week.
Harris III' s wife Kate Harris keeps fans and friends of Harris III updated through her twitter account at https://twitter.com/kateharris. Kate Harris tweeted that Harris III was hospitalized. Kate requested prayers for her husband and spent hours in hospital.

Kate Harris tweeted, "@HarrisIII had a rough night. Now on morphine an some heavier antibiotics. Looking like we might be here all night again." In her tweets Kate Harris mentioned that "He needs all the prayers he can get."
Harris III is currently booked for the 12 Gifts of Christmas tour comprised of various Christian entertainers. The first date is the 29th of November in Ohama, Nebraska. We hope he gets better long before then.