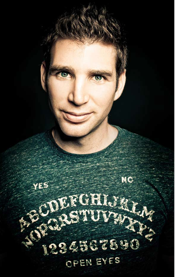 Joshua Jay and Andi Gladwin announced they are bringing back the Columbus Magi-Fest in 2013. Jay tells iTricks why he was motivated to salvage the institution. Magi-Fest returns January 24-26, find more information here.
When I was eight years old my dad took me to my first convention, the Columbus Magi-Fest. Without a doubt, that day changed my life and set me on a course I'm still on today. It was, for me, the perfect convention. You have great talent and ACCESS to the performers, and a real down-home spirit of sharing that goes on until very late every night. The Magi-Fest was always just the right mix of innovation and tradition. I was very saddened to hear that after 83 years, it was shutting down. I had several people tell me, in confidence, that they cried. It meant THAT much to many magicians.
So, with my best friend and fellow magician Andi Gladwin, we have taken over the reigns of the Magi-Fest and we're bringing it back! We have the best line-up the convention has seen in years, and many, many surprises. We're working tirelessly so that this year's convention will amaze even long-time attendees. We're very, very pleased and honored to be continuing such a fun tradition.