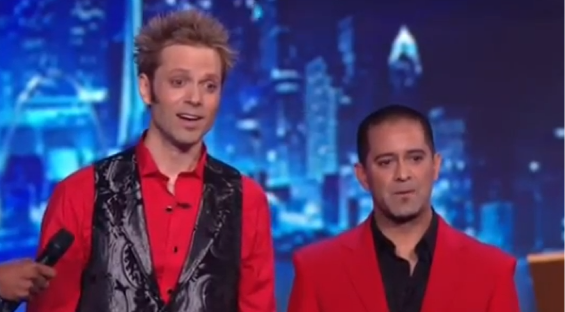 Real quick reminder on the financial realities of America's Got Talent for an illusion act. In our interview with Jarrett & Raja after they were initially eliminated from competition, they discussed the cost of putting together big, custom illusions on a super tight timeframe.
In short: it costs a lot. Competitors are put in the impossible position of pitting their financial realities against the opportunity a network television platform represents.
They specifically had this to say about their plans for the performance they put on last night:
"Yes we have something awesome planned for the next one and we hope we can show it on the Wild Card show, but of course if we do that, you can know we're completely broke"
It bears mentioning that the duo laughed after saying that, but there is no mistaking the very real cash outlay for acts as they make sure their performances will play as big as possible on television.
Of course, this is all worth it if their career experiences enough of a bump from the exposure. But none of that is guaranteed and network influence is shrinking every day.
So the next time you're watching AGT, remember to factor that in to what you're seeing.
Not only are these illusion acts baring their creative soul, they're also playing a game of chicken with their credit lines hoping the other side will blink first.