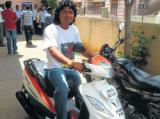 Talk about a long distance stunt.
Indian magician Samarth Shenoy plans on riding his scooter from Mysore to Mangalore blindfolded at 25 km at city limits and 35 km on the highway. The entire trip will take him 10 hours.
The agenda behind the adventure is to complete the feat within 10 hours and reach Nehru Maidan of Mangalore by 5 pm. He wants to enter Limca Book of World Records and Record Setter. His eyes would be covered with a 5 mm cloth and a mask upon it of 5 mm.
He starts his journey tomorrow. We wish him luck.