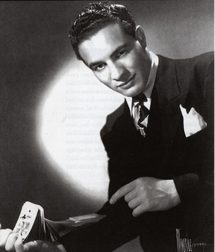 Magician and gambling expert Tony Giorgio is best known to the world as Bruno Tattaglia in The Godfather. Son of a don who is at odds with the Corleone family, Bruno and his partner start a gang war when they kill enforcer Luca Brasi resulting in many deaths, including Tattaglia's off screen demise. In addition to his role in the most famous gangster movie ever made, Tony Giorgio was the magic and gambling adviser for the original Mission Impossible series.
He also appeared in The Wrecking Crew, Magnum Force, Foxy Brown and dozens of other films and television shows.
His magical career saw him move from Depression-era talent shows as a child magician to Genii contributor and creator of instructional videos on handmucking and the three card monte. Tony passed away earlier this year at age 88 but he will always be remembered as the man who sent Luca Brasi to sleep with the fishes.