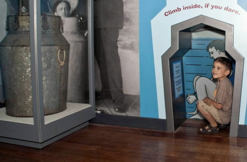 One of the pioneering cities in the history of American magic, Chicago now celebrates it's legacy with an interactive exhibit featuring legendary sleight of hand artists performing close-up magic and very unique artifacts.
It can all be seen at the Chicago History Museum's newest exhibit "Magic"…
Russick says that the topic of magic in Chicago came up in conversation, then grew through focus groups the museum conducted. It quickly became clear that, in order for the show to present a fully rounded experience, live performances would need to be included — a first in the museum's history. So every day, a changing lineup of "strolling magicians" demonstrate the kind of chamber magic initially made popular in Chicago by the likes of Matt Schulien (whose eponymous restaurant provided the backdrop for his parlor tricks); Marshall Brodien (aka "Wizzo the Wizard" on WGN's "Bozo's Circus"); and Eugene Burger, who still reigns as a beloved guru of "close-up magic."
Many of the artifacts can be interacted with and there is a very quick video tutorial on how to palm a card.