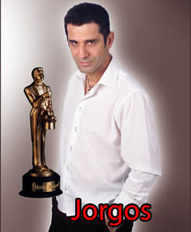 A UK magician by the name of Jorgos and his assistant Heidi Southworth have been awarded the Merlin for Best Stage Performer and Best Stage Assistant at a New York Ceremony.
Heidi, 32, said: "I was thrilled when I found out about the award.

"Jorgos received the same award in 2008, but it was the first time for me.

"This is a very important award in the magic world so of course it is a big honour to be chosen to receive it. Also to have the presentation in such an historic venue as Times Square, New York."
Our condolences to all the other applicants for the award who will have to wait until next year to receive oddly distributed hardware.