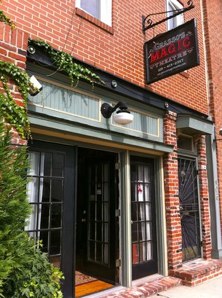 When live performance was more of a vibrant options for those looking to be entertained, theaters used to be more specialized. Now, as a magician, if you can find a space to perform you're lucky.
But since 2009, there's been a place in Philadelphia where the idea of the magic theater lives on. Joe Grasso's Magic Theater has become a staple for touring magicians looking for a intimate venue with an audience hungry for magic.
Despite its recycled decor and off-the-beaten-track location, Grasso bragged that his room has become a key stop on the nation's magic circuit — only one of five venues in the nation that specialize in sleight of hand. (He said the others are in Los Angeles, New York, Las Vegas and Texas.) As a result, performers reach out to him.

"We have magicians calling from Japan who want to play here," he said. "I got a call from a magician in Great Britain who's coming to the U.S. and wants to play here."

"It's awesome, a beautiful theater. You have to see it to believe it," enthused Michael Bonacci, a regular headliner at Grasso's. "It has a nice stage, all kinds of lighting, a fog machine built in. It's kind of like taking magic back to the old days of vaudeville. I can't say enough about it."
Grasso is the father to Michael Grasso, who made the deep run on America's Got Talent a few years back.