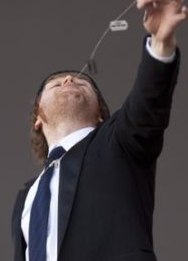 File this one under: Nightmare Fuel.
Russian illusionist Ilya Safronov was performing in front of Ukrainian television cameras. In the beginning stages of "Hook From the Eye" he appeared to swallow a razor sharp hook. In this particular instance, he really did swallow the razor sharp hook. Eventually he alerted producers who stopped recording and called an ambulance.
"Doctors arrived on the scene within minutes. After a brief examination, they told the film crew that they would take Ilya to the regional hospital, where the illusionist would see an ear-nose-and-throat specialist," New Channel's press department told the news agency.
Safronov's brothers, who were part of the act, initially intended to remove the hook themselves.