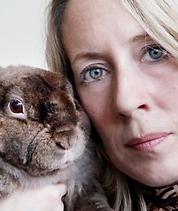 A terrible story out of Brisbane, Australia. Magician SuperSteph (real name Stephanie Lee-Harper) had two trained rabbits in her act until a stray dog attacked her garden and murdered killed her white rabbit Mr. Furious.
"The dog ripped open the wooden rabbit hutch and took the scared rabbit out of its cage," she said.

"I heard squeaking and went into my garden to find a huge white mastiff shaking my guinea pig in its mouth.

"My one-year-old bunny rabbit was lying, already dead, on the grass next to the dog.
Many of you reading this know the attachment that comes along with training an animal to perform with you. Our condolences go out to Steph.