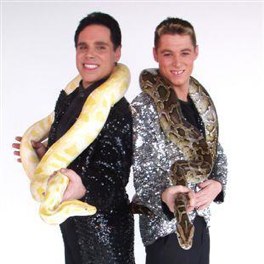 Lance Gifford, a touring illusionist will no longer be performing with one of his long time assistants. Cadabra, a Burmese python used to be the star of his Hindu Box finale. Now, thanks to a new federal regulation banning the importation and travel of Burmese pythons across state lines, Gifford has been forced to cut the act.
He says the new rules leaves him with with over $20,000 in now-useless custom props and a heavy heart. Without a federal permit for the act, Gifford turned his partner over the government.
Last month Gifford wept as he headed to meet with Vernon Yates, director of Wildlife Rescue & Rehabilitation. They met in Tampa on the side of a road.

Cadabra, coiled in a bag, was in the back of the car. Gifford kissed him on the head one last time and handed him to Yates.
Gifford says he cannot use a different snake for the act since Burmese pythons are unique in their relatively docile nature and stage presence.