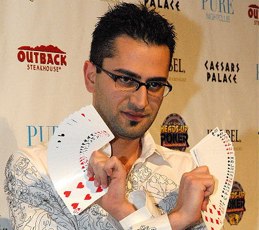 Professional magician turned professional poker pro Antonio Esfandiari raked in over $18 million yesterday in a single game that featured the largest World Series of Poker buy-in ever: $1 million. It represents the largest prize in the history of tournament poker.
"It's unbelievable," Esfandiari said. "It's euphoric. I'm so happy right now, and I don't even think it has set in."
Esfandiari made a living performing magic before learning Texas Hold 'Em. He become one of the poster boys of the game during the 2000s poker boom which brought the sport to television. His former career was enough to earn him the nickname of "The Magician". He's known for his elaborate chip manipulation at the table.
Congratulations Antonio!