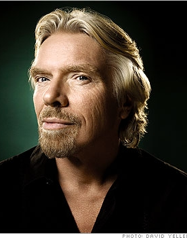 If there is anyone who could take credit for a natural disaster as the payoff to a mentalism routine, it's Derren Brown. And he certainly had the oppertunity this week as he was invited by Richard Branson to perform at a beach party to celebrate Virgin Atlantic's new routes to Mexico.
However, Mother Nature refused to cooperate.
The 61-year-old invited illusionist Derren Brown to perform at a beach party celebrating Virgin Atlantic's new route to Cancun in Mexico but no sooner had Derren finished his tricks than a storm tossed the tented structure in the air.

"It's not even the first time that it's happened," chuckled Branson who invited Day & Night to the bash.
At which point, Brown opened a sealed envelope holding a drawing of a marquee blowing away. Not really. But that would have been awesome.