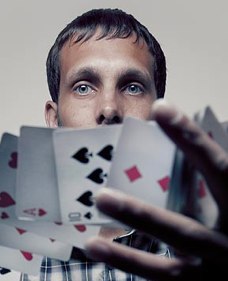 The Guardian's TV and Radio writer Stuart Heritage connects a few dots when it comes to magical fare on UK televisions. He points out that last week the BBC and ITV cancelled their two magic programs, The Magicians and Penn & Teller: Fool Us respectively. This week we see the debut of Dynamo: Magician Impossible's second series.
Therefore Dynamo is the future of UK magic television.
But, regardless of the quality or scheduling of these shows, it's sad to see television bereft of magicians. Or at least almost bereft. Because, over on Watch, Dynamo: Magician Impossible is going gangbusters. In fact, it's the channel's most-watched show by some margin. The second series of Magician Impossible begins tonight, and buses are covered in adverts for the show. Watch broadcasts shows like Too Fat For 15 and celebrity rollercoaster gameshow Scream if You Know The Answer. It shouldn't have the money to cover buses in anything. But Dynamo has bucked the trend. Dynamo, it seems, is a big deal.
Although the concept of crowning someone "the future" of anything is a bit loaded and silly whatever brings more magic to television is what we're rooting for. Tonight, that's supporting Dynamo by watching the premiere of his second series.