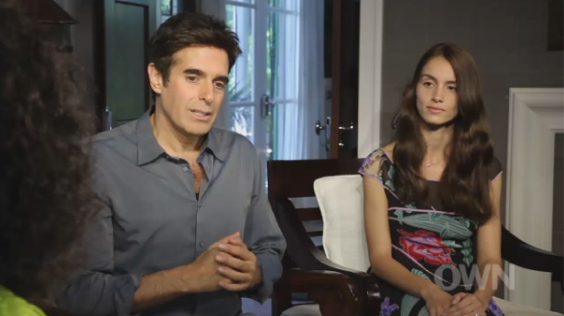 David Copperfield and his fiancee Chloe Gosselin explain to Oprah why they are not getting married. Here is a transcript from their upcoming interview with Oprah, airing this Sunday at 10 p.m. on OWN.
Oprah Winfrey: Do you want to get married?
David Copperfield: I'm afraid.
Oprah Winfrey: What?
David Copperfield: No, I think marriage is a great thing. I think it's a great thing for many, many people. We're engaged. We're engaged forever. I think.. I don't ever want to get lazy. I think that's what would happen to me. Marriage is like a formality for me. I wish it on everyone else. But for me, I think, you know, I've watched many friends who were so in love with each other and great and everything is so fantastic and they get married, something about that formality that people kind of they get a little bit lazy and they take things for granted and I don't want to lose her. I want to keep her.
Oprah Winfrey: Does it matter to you if you are married or not Chloe?
Chloe Gosselin: It's ok. I think we have a kid who is the biggest commitment so I don't really mind.
Oprah Winfrey: You don't really mind.
Chloe Gosselin: No…
Oprah Winfrey: But, if he said let's go get married, you might…
Chloe Gosselin: Yeah, I will say yes for sure (laughter)
Here is a link to the video. For some reason the embeds seem a bit wonky.
Also, here is a picture of Gosselin in her professional capacity as a model.