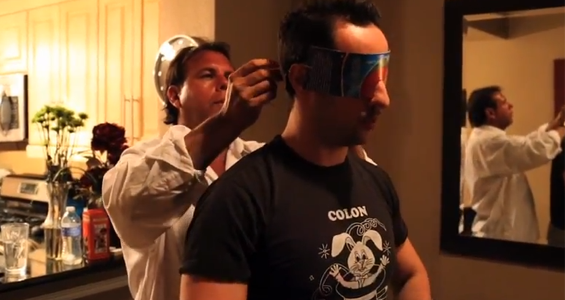 Four magicians, a bunch of random dollar store props and a living room competition in front of a pack of magic-jaded Las Vegas locals. This magic-infused version of Chopped pitting theory11′s Rick Lax and Sin City magician Jimmy Fingers against iTricks favorite Bizzaro and nerd illusionist Kyle Marlett is way worth the time of anyone reading this.
Not only did these guys, along with host Justin Flom get the form and function of these reality shows they created a really engrossing competition around magic creativity.
Furthermore: who are the next contestants?
UPDATE: we got some added insight into the video from Rick Lax, click AFTER THE JUMP to see them.
From Mr. Lax…
1) Both teams kicked ass and accomplished the goal of creating
original magic with unknown props.
2) This idea has been in my head for years and I was so happy to
finally make it happen.
3) Justin Flom not only hosted, he also directed and edited. And
additional filming was done by Jocelynn (his wife) and Janelle (his
sister)
4) The judges deliberated for a long time. Really long. They were
fighting, apparently. We needed to wrap up, but they just kept going.
Was annoying at the time, but also refreshing that they took their
jobs so seriously.