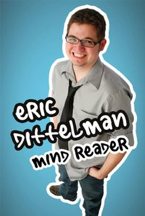 Mind reader (and friend of the site) Eric Dittelman is gearing up to perform on America's Got Talent live tonight.
The Boston Globe profiles the hometown hope and in the process identifies what Dittelman thinks separates him from the rest of the magic pack.
When Dittelman began learning about the art of mind reading, he knew he wanted to carve his own path.

"The biggest difference is that in magic you go in knowing nothing's real, and you're willing to suspend your disbelief," said the affable performer, whose smiling face is framed by hipster glasses and a dark goatee. "With mind reading, people aren't so sure."
We are unapologetically in the tank for Eric since he's been a long time reader and supporter of the site. We encourage everyone to watch and vote tonight.