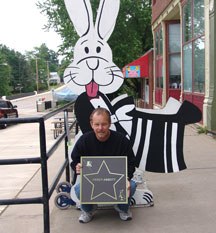 The home for the Abbot's Get-together could also be where the biggest names in magic are enshrined to history. Local officials in Colon, Michigan are enthusiastic about installing a Magic Walk of Fame.
In fact, they've already sold three spots.
Fisher said in just a few weeks, three donors stepped forward to pay the $1,275 it will cost to purchase and install each star.

Annette Thornton and her husband, Carl, who own Five Star Pizza in Colon, bought a star. Fisher said Annette came up with the idea for a walk of fame for magicians in Colon. She still has to select a magician for her star.
The two other stars will commemorate local magicians Neil Foster and Monk Watson.
But if this is to be an international magic institution, the question is… who is the first induction class?
Let's say it's a class of three. Who are the first three magicians to be enshrined?