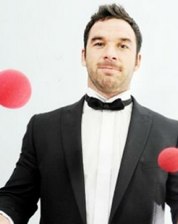 It's the circle of life.
27-year-old UK resident Carl Slattery got married to his wife Vicky last year. They decided to hire a magician, Jason, for the reception. Carl was so blown away and fascinated by Jason's walk around skills that he decided to take up magic as a hobby, relying on Jason to tutor him on the sleight of hand necessary to become a proper prestidigitator.
"I became interested in having a go myself and Jason was kind enough to work with me, and I found I had an aptitude for it.

"He has mentored and supported me to the point that we have now done a few gigs together."
And now, roughly a year later, the cycle is complete. Carl booked his own wedding.