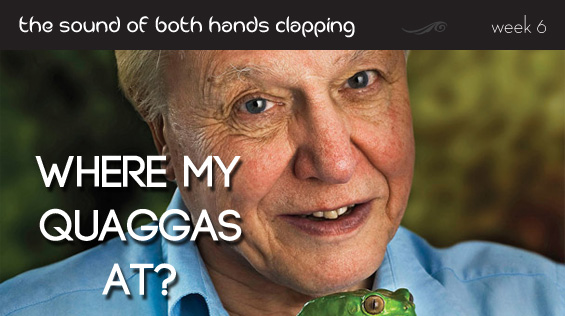 I am an atheist who believes in a god. His name is David Attenborough.
(Technically, I believe in two. But we don't need to discuss Stephen Colbert here.)
Try this experiment: watch Life, Blue Planet, or any other David Attenborough documentary without sound. Now watch it again with sound. For obvious reasons, there's simply no comparison. Listening to David accompany the videos is an entirely different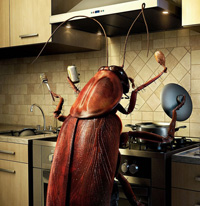 experience. His narration provides crucial context, insight, and underlying knowledge, allowing you to grasp and understand exactly what's happening. Without David, you're just watching a bunch of bugs crittering around. If that's what I wanted, I'd just turn on the lights in my kitchen.
If narration can be so game changing, why are we always told not to narrate when we perform? Not only is it considered an unacceptable form of presentation, it's not even considered a presentation at all! We're often warned that narrating is boring and superfluous. Not just regular fluous, we're talking about the kind from Krypton.
This "rule" is one of the biggest reasons for mediocre magic.
Please re-read that sentence above. This rule holds us back in a massive way. We're all so scared of narrating that we fail to communicate what we're doing and exactly how that's about to rock our audience's world. Communicating is so damn important – in life and in magic – but we're needlessly c—blocking ourselves. Without communication, our audience is just watching a bunch of cards crittering around.
Let's look at some examples.
One of the main concepts we need to communicate to our audience is the conditions. Without conditions, we don't have magic. We don't make two cards change places, we make two cards change places without touching them. We don't make a coin appear, we make a coin appear from an empty hand. These conditions need to be clearly communicated. Without it, some in your audience may understand, some may not, but you're taking a gamble. You can guarantee you're not maximizing the potential hurt on your spectators. Narrating is a perfectly acceptable way to communicate the conditions before the magic takes place. It's not just acceptable, it's damn near necessary.
Narrating also helps highlight the important aspects of the magic and hide the stuff you'd rather not have the audience notice and remember. If you say, "Here, let me pick up that pile," but you actually picked up the pile, cut it, and glimpsed the bottom card, then the narration helped hide your true intentions.
Now that we know we should not just narrate, but narrate hard, let's look at some sweet ways to do it, and some sour ways to do it. I don't care if you like sour stuff, we're pretending it's bad here. And don't even get me started on sweet & sour chicken balls:
Sour:
"Here, I will shuffle the cards." This type of narration will communicate the condition of a shuffled deck, but it's a tad condescending. You're treating your audience like they're blind and incapable of understanding what you're doing with their about-to-be-glazed-over eyes. Not great.
Sweet:
"Do you shuffle like this? Or like this? My grandpa taught me like this, but I never trusted him after he told me I looked like my brother. I'm an only child." This type of narration still communicates that the deck is shuffled, but it does so in a less-direct way. It takes into account that the audience can obviously see you shuffling, but it still allows you to bring it up and cement the condition. A bonus is that this tactic also allows interaction with spectators, something not possible in the first example.
Sour:
"Look. I have nothing in my hand. Now I've got a quarter." Again, this is totally fine and communicates what you need, but we can do better. As well, definitive statements such as "I have nothing in my hand," are bound to raise suspicions. Avoid such definitive statements if you can. Don't make your spectators' minds up for them. They'll resist. Let them make up their own minds, but guide them to make up the minds you want.
Sweet:
"You know these lines on our hands? This is my fortune line. Look how long it is. It allows me to do this… [produce a coin]." In this example, we've clearly narrated how empty our hand is without being explicit. You can also see how a condition can be used to tie together several of the presentational concepts that we've talked about these last few weeks. We've taken the condition of an empty hand and built a narrative around the empty hand itself, creating a context and presentational hook. Yay you!
Get out there. Get narrating. Get the Planet Earth blu-ray set.
For more of Tyler's work, head over to cherryvillain.com. They've just launched a new members-only section with some amazing resources. You'll need an invite code. Here's yours: fiveisalive