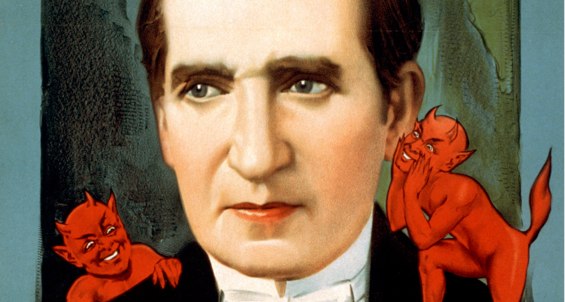 A new exhibition of memorabilia from Howard Thurston and his inner circle is about to go on display at the Hudson River Museum in Yonkers. It will also include artifacts from Harry Keller and Chung Ling Soo's careers.
Much of it comes from the private collection of Rory Feldman.
Mr. Feldman owns stacks of Thurston correspondence, memoirs, business ledgers, film reels and light bulbs jiggered to hold live canaries. He also seeks out Thurston's inventions unrelated to magic; Thurston would hand out advertising cards at his shows for "perfect breathers," wire loops meant for widening nostrils and preventing snoring.

The Feldman collection can be as mundane as lumber and garage bills for Thurston's Mystic Palace in the Cos Cob neighborhood of Greenwich, Conn., and as eerie as a red velvet hat with black horns that Thurston wore to meetings of a magicians' association called the Demons Club.
Gilded Age Magic will open next Saturday, May 26th.