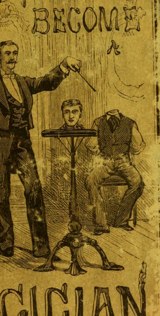 The morals may be a bit buttoned down and the tech a little antiquated, but you might learn a thing or two from How to Become a Magician. Released in 1882, the beginner tome not only lays the theoretical groundwork for an aspiring conjurer but teaches a wide variety of tricks. Many of the methods are still used today.
As stuffy as the Victorian era was, it's interesting to note how much getting a laugh at the right time was still a crucial element of the business.
"You must remember to keep talking the whole time, and always try to make a joke, or otherwise to distract the attention of the audience, while you are executing the necessary changes."
It serves as a stark reminder exactly how old some well known tricks are.
Read it at Public Domain Review. Hat tip to io9, which is where we found it.