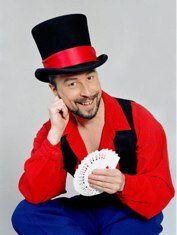 Family magician, magic blogger Tony Blanco has died at the age of 51.
His life is remembered fondly by those who knew him best in this Fresno Bee obituary today. By all accounts he was a man dedicated to his craft, a fine performer and hard worker.
For me, Tony was the author of the Tony's Tips and Picks blog. Magic blogging is a very quiet field, so anyone else who does it tends to hit your radar pretty quickly. I always enjoyed Tony's perspective and linked to him a few times.
I never met the man and he had not written regularly on the blog in a very long time but in way that is unique to the Internet, I feel like the world is a little quieter now that I know he's gone.
From everyone at iTricks, we'd like to express our condolences to Tony's friends and family.