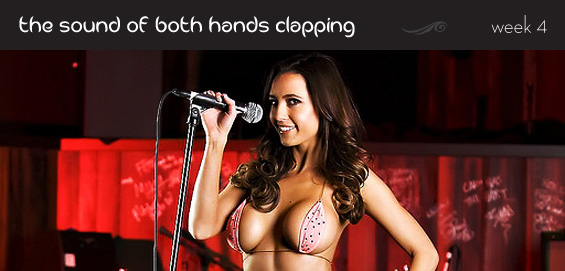 In Florida, it is illegal to sing in a public place while attired in a swimsuit. (The penalty doubles if you're doing Nicki Minaj.) What does this have to do with magic? Well, as we learned last week, the rules in magic can be just as insane as their bikini-karaoke counterparts. Because of the almost-religious-like indoctrination of these rules, we're going to spend less time in this column creating our own rules and more time debunking these existing myths. This week we'll be taking a closer look at one of the granddaddies. It's the second oath we're supposed to swear on and uphold: "Never tell your audience what you're going to do." This one is so absurd it's like a Floridian lawmaker's dream.
This myth can be thoroughly debunked with two words: Ambitious Card
After the first phase of an Ambitious Card, you're telling your audience exactly what's going to happen (whether it be verbally, or implied). And the Ambitious Card is arguably one of the strongest effects in magic. I'll even go a step further and suggest that the Ambitious Card is so powerful because the audience knows what's about to happen. They know what to look for, they know where the magic is going to take place, the tension is high, and despite this, the magic is still able to happen under these focused conditions. Compare this to tricks where the audience has no idea what's going to happen, are surprised by the eventual magic, and then say, "Whoa! I wasn't looking, do it again! Do it again!" The second approach can still be magical and thrilling for the audience, but it's incapable of the deeply fooling feeling of the first.
Here are two videos of comparable performers. The first is doing a trick with an unexpected effect. The second is performing an Ambitious Card where the audience knows what's about to happen. Both effects get reactions, but we must understand that reactions are not created equally. Reactions by surprise are not the same as reactions by amazement.
This rule was probably crafted out of fear. Magicians of the past could have been scared of getting caught, so they thought that if the audience didn't know what was about to happen, they had a leg up. This is probably why they also created the rule to never repeat a trick (which the studious of you will notice is also made invalid by the Ambitious Card). So the best way to incorporate this explicit foreshadowing is to tell the audience what's about to happen after you've already secretly done the work. This accomplishes two things: it ensures the audience doesn't know what to look for while you're executing the actual method, and it suggests to the audience that nothing has happened yet. Those are two powerful features.
This column is focused on crafting your own presentations, so let's look at how we can apply this knowledge to your material.
Telling your audience what's going to happen can come in many forms. You can add in other challenges:  "I'll do it reeeeeeally slooooowly…" "I'll do it wicked fast…" "I'll do it one-handed…" "I'll do it without crossing this line here…" "I'll do it by the power of Greyskull…" You can change up the medium, telling your audience through a written note or even a pre-recorded video on your phone. You can also break it down into steps to make the effect build. Let's look at Card-to-Pocket for an example of this last idea. Let's say you tell your audience that the card will end up in your pocket. You lose the card in the deck, and then show it's on top, "Ooh, it's on its way!" The card then appears on the table halfway between the deck and your pocket. The card then vanishes and finally appears inside the pocket. The intermediary phases wouldn't make sense if you hadn't previously told your audience about the card's ultimate destination. The explicit foreshadowing was essential.
Before we call an end to this, I just realized that I haven't met my contractual quota for dead hooker references this week. Sorry. Next week we'll discuss presentations about deceased prostitutes, escort cadavers, perished whores, departed hoes, and stiff slags. But don't you DARE mention anything disgusting like singing in a swimsuit!
For more of Tyler's work, head over to cherryvillain.com. They've just launched a new members-only section with some amazing resources. You'll need an invite code. Here's yours: fiveisalive