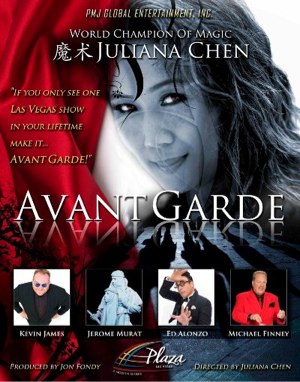 A few weeks ago we lauded the talent line-up for a show called Avant Garde. It featured Juliana Chen, Kevin James, Sonny Fontana and Ed Alonzo as well as promises of future performances by Michael Finney, Jerome Murat, Rudy Coby and Aaron Crow. We even hyperbolically asked if it was the best magic show in Vegas?
It isn't. In fact, it isn't anything. It's no longer in existence.
At least as Avant Garde.
Mike Weatherford reports that the show shut down on Monday after one of the investors defected. James and Chen are now attempting to reignite the show.
What will change is the name and the same goes for the unfortunately named lounge in the Plaza as well.
"People don't get it. They don't understand it," Cools says of "Avant Garde." The problem, he adds, is not confined to the showroom. Cools has to change the name of his Swinger's Club lounge (named for the minigolf inside). "They think it's a real swinger's club." …
Swinger's Club? Seriously?
We wish the best for the Untitled Chen And James Show, that line up is still pretty awesome.