SPONSORED POST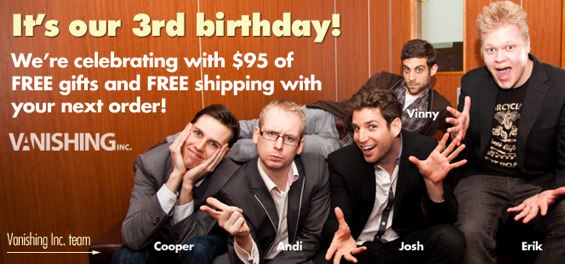 We're celebrating our 3rd birthday by giving you gifts!
Vanishing Inc has enjoyed three full (often exhausting) years of bringing you what we feel is the best that magic has to offer. We share only things we believe are worthy of your attention, and we sell only magic we, ourselves, enjoy or use. The idea has worked! Our business has blossomed into exactly the kind of magic shop we would want to shop at. Thanks for making our goal—our dream—come true. Now let's celebrate!
For one week only, we're offering a sale in which you can get free shipping, AND a free gift with every item you buy (over $95 worth of magic). Here's how it works:
Buy ANY physical item and get our immensely popular download, Orbit Spread ($10 value) for free, instantly. Have you seen the trailer for this one? It's a really interesting way of spreading cards on the table that looks impossible, but is actually quite easy to perform.
Buy TWO ITEMS and get Orbit Spread and a Magic From The Session ($15 value). These collectable booklets feature magic by The Session performers. They are NOT offered for sale separately and it's rare to find an original copy, as much of the material remains unpublished.
Buy THREE ITEMS and get Orbit Spread download, Magic From The Session booklet, and get Three Pieces of Silver DVD ($30 value) by Rune Klan for free. Rune's coin work is heralded all over the world, and here you get nearly two hours of instruction on elegant, stand-up coin routines.
There's more! The more you spend, the more you get:
Spend over 100 dollars and shipping is FREE. You get all three goodies AND shipping is free (50% off shipping for our international friends).
Spend over 150 dollars and enjoy free shipping, all the goodies AND one of the coolest parlor mentalism effects out there: "It's a Match" by Andy Leviss (a $40 retail value). Our supply of these is VERY limited, and the offer is good only while supplies last. But this effect is so, so smart and something you can add to your program right away, enabling you to predict (or force) the name of a chosen hotel. It's an amazing tool, and yours free!
SPONSORED POST