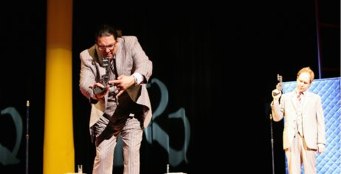 Many of you have already read Teller's excellent article in the Smithsonian Magazine.
In it, he details the seven magic principals that he (and every magician) use every day to do their jobs. They are all compeletly brilliant and illustrate not only Teller's masterful comprehension of the mechanics of this art form but also the unique presentation skills needed to explain the deliberately counter intuitive concepts in plain language for lay people.
But it is one of the seven, that gives away a key element of Penn & Teller's signature effect: the Bullet Catch. And although Teller reveals many effects in the article, he is not the one to identify it as such.
That would be Penn, who on the most recent episode of his new podcast Penn's Sunday School discussed his partner's writing and said the following.
(reading from the list) Nothing fools you better than the lie you tell yourself.

That's why during the bullet catch we do in our show, this is giving away a big secret. I never say "Teller is going to catch the bullet in his teeth, we are going to catch a bullet in our teeth." We never say that because then you'd say, "no way."

We let you tell the lie to yourself.
It's an part of the routine that most people never think about but, as explained, is such a key element.