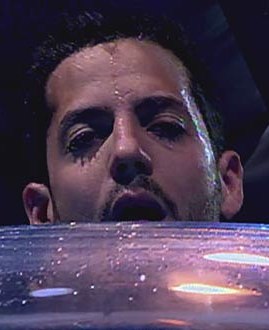 David Blaine held a Q & A last night at Dallas' Winspear Opera House and in the process partially answered a question we've long asked: what does a David Blaine live show look like?
By the looks of the reviews, we got about 20% performance / 80% interview. But we did get a particularly robust explanation of Blaine's opener, a nod to his successful World Record attempt for breath holding.
At precisely 8 p.m., the opera house curtain rose to reveal, center stage, a large tank, seemingly filled with water, in which Blaine, wearing a thick, dark suit, sat submerged. In front of him a small table held a plate of fruit, bottle of wine and other props. Breathing through a mask at first, Blaine finally tapped his watch, indicating that he'd take off the mask and commence holding his breath for 12 minutes.
That's a pretty awesome way to greet your audience in our opinion. Although he breath holding attempts are normally pretty plain (beyond the drama of stunt of course) for this show he gussied it up a bit.
One minute, two without breathing. Then five. Blaine, always positioned in three-quarter view, lifted the lid on a silver bowl inside the tank, releasing goldfish that swam around him. He peeled and nibbled a banana. Occasionally, a few bubbles escaped his lips.
Sounds pretty awesome.
We do have a major bone to pick with writer of this Dallas Observer blog review, Elaine Liner. She peppers her post with snark about possible methods to Blaine's tricks, insinuating a performer who has made a career of carefully mixing real physical stunts with magic trickery is only as interesting as a YouTube exposure clip might tell you he is.
This would all be totally valid if the audience seemed detached from Blaine or unsatisfied with the show. But by Liner's own admission…
The crowd ate it up with a spoon, however. A bendy spoon.
So it wasn't the paying audience who was underwhelmed, just the writer who desperately wants you to know she understands the term Hindu Shuffle. Even for magicians, Blaine has never been about the tricks he selected, but rather how he performed them. It's a shame Liner couldn't convey more of that.