Gabe Fajuri is a magician, writer and expert in the field of rare magic items stemming from his work with Potter & Potter auctions. Their next auction takes place January 28th. You can get more information at Potter Auctions.com.
When asked to name the three "most priceless" magic artifacts by iTricks' illustrious editor, I drew a complete blank. Then I thought about the question and came up with the following list. Consider this a philosophical and long-ish answer to a very short question.

Houdini
No, you can't own a piece of Houdini, the man. But virtually every thing he created, signed, or was associated with has value. Last year saw several Houdini relics on the auction block, including a rare poster of Houdini on trial in a German courtroom which sold for $30,000 (it had been discovered in a suburban Chicago basement), and a Houdini-owned straight jacket selling for over $40,000. Who knows what mementos of the master escapist will turn up in 2012?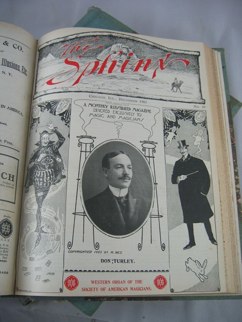 The Sphinx Knows
One poll of the Magic Collectors Association asked members to name a single item in their collections which they'd save if a fire were to burn down their homes. The item singled out by a resounding majority of the members was a complete file of The Sphinx, the periodical published from 1902 to 1953. The journal covers a fertile fifty year period, and contains more fantastic information, anecdotes, and instructions for tricks than any one person can digest in a lifetime. It also stands as an example of the boundless amount of magical knowledge that's been published and is out there, waiting to be rediscovered. If you don't have the necessary $5,000 to $10,000 for a complete file of The Sphinx, spring for a digital edition (or a subscription to Askalexander.org).
A Brush with Greatness
If one truth has been proven repeatedly – in my auctions, anyway – it's that there's great value associated with objects owned and used by famous magicians. In May 2011, Potter & Potter sold the original Mullica Wallet – the one that started it all, having been used by Tom Mullica for years – for nearly $10,000. Other big-ticket items sold in recent years include a set of Hofzinser's cups for the Cups and Balls trick, as well as props and items associated with used by Dai Vernon and Howard Thurston.