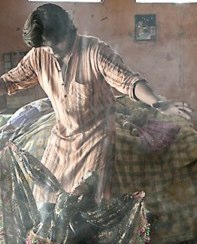 There is a colony named Kathputli on the outskirts of Dehli where the country's best magicians, puppeteers, jugglers and street performers live. It's a slum colony, the residents have no legal right to the land, but the collective hive mind of talent has gained a sterling reputation from those who care as the best in the region.
And it will all soon be gone, as developers chase them away so they can bulldoze the property and build a mall.
The colony, which was built in what was then a jungle in the 1950s has now been consumed by Dehli's expansive growth.
"The land has gotten really expensive all around it, and there's no solution for it because India can't let a prized piece of land go to what are essentially squatters," Goldblum said.

The slums are not looked on well either. Amid India's growing economy, they are seen as black spots on their global image.
Two filmmakers are filming a documentary about the forced migration entitled Tomorrow We Disappear.