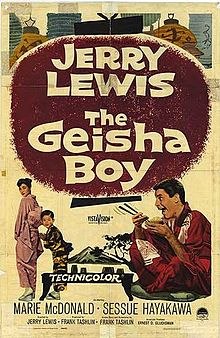 Long before movie audiences fell for lovable losers like Napolean Dynamite or kids in Superbad, we had Jerry Lewis. Of particular interest to the magic set is The Geisha Boy, his third film after splitting with Dean Martin. As hapless magician The Great Wooley Lewis finds a new partner in Harry Hare, an extremely talented rabbit. Directed by former gag writer and Looney Tunes animator Frank Tashlin (Will Success Spoil Rock Hunter? and The Girl Can't Help It), The Geisha Boy follows Wooley as he travels with a USO tour in Japan headlined by vain Hollywood bad girl Lola Livingston (Marie "The Body" McDonald) and becomes involved with a young Japanese orphan.
Even by Jerry Lewis standards, this film breaks the rules. Actor Sessue Hayakawa, the sadistic colonel in Bridge Over The River Kwai, portrays the orphan's grandfather who is busily building a bridge over his pond. In other scenes the Paramount stars appear over Mount Fuji and Lewis' character refers to the onscreen subtitles. Stealing the show, Harry Hare, in scenes that would appall PETA, is almost as animated as Bugs Bunny.
In addition to Lewis and McDonald, the cast of The Geisha Boy is rounded out by a very young (and cute) Suzanne Pleshette, Barton MacLane and the LA Dodgers. The film's magic consultant was Snag Werris, who appeared in several early TV variety shows performing rope magic and worked as a TV and film writer. He is probably best remembered as the co-creator of Dotto, the gameshow that kicked off the gameshow scandals of the late 1950s. It was also the first show cancelled for being rigged.