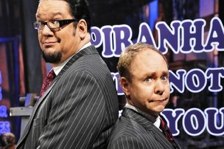 As we gear up for tomorrow's new episode of Penn & Teller Tell A Lie, let's take a look back at how the show's debut did in the ratings.
According to TV By The Numbers, Tell A Lie pulled a .5 share in the 18-49 age demographic coveted by advertisers and therefore highly valued by the networks. They accounted for roughly 1,259,000 viewers in "the demo".
Compare that to their lead-in Mythbusters which pulled a .7 and 1,844,000 viewers.
In the meantime, get jacked for tomorrow's episode at 10 p.m. ET with this segment from the show…